MAG-9000 Lawn Mower Blade Sharpener Model Generations
Posted by Gerd F. Bauer II on Jan 7th 2021
In this article we will provide model changes of the MAG-9000 sharpener from its first production run in 1989 to the current model. This will be helpful to identify your MAG-9000 determine what parts diagram to check so that you can find the correct parts. This guide is just for a parts reference, it is not an exact production history. You will also find some overlap in some of the generations.
---
Generation 1 (Production time frame 1989-1991)

The first generation of the MAG-9000 had a full tube frame and was painted orange, the adjustment was controlled by a four point plastic knob and the threaded rod was 1/4" diameter. The 9000-67 update kit to update old MAG-9000 adjustment can be found here, all generations of the MAG-9000 can be updated to this adjustment. We no longer sell the old smaller adjustment components, the update kit is the only replacement choice. The MAG-9000 used a LEESON motor with 1/2 horsepower. When the MAG-9000 was sold with a grit guard with a vacuum connection it was called a MAG-9001. The carry handle is a bolt on plastic handle.
---
Generation 2 (Production time frame 1992-1995)
The MAG-9000 is now powder coated red
Body is made from two "U" frames welded together
Grit guards are powder coated black
Switch plate changes from lock out style to just name plate
1993 the rear motor screen was added to enclose the MAG-9000.
1994 the carry handle is now steel and welded directly to the top of the MAG-9000.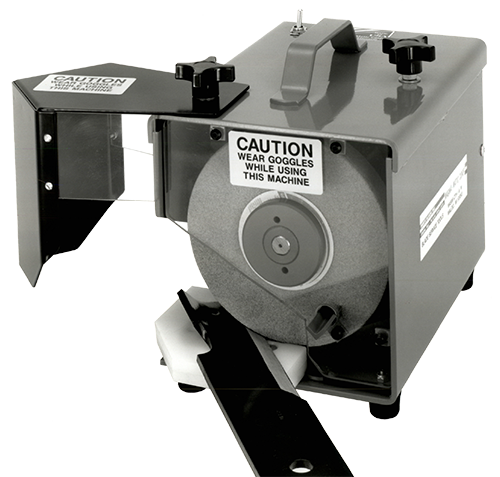 ---
Generation 3 (Production time frame 1995-1998)
In 1995 the notch in the lower right-hand corner was cut out to grind chainsaw bars square.
The 9000-22 worktable became wider to support the chainsaw bar during squaring. This is the same size the worktables are today.
---
Generation 4 (Production time frame 1999-2004)
There are some gen4 units that will have vacuum grit guards, please note there is some overlap with the generations.
Frame is now bolted rather than welded
Adjustment rod goes from 5/16" to 3/8" diameter 9000-16
The adjustment knob is changed to a crank handle for faster adjustment
The nylon adjustment nut is enlarged 9000-18
If you need to replace the whole adjustment assembly use this kit 9000-68-KIT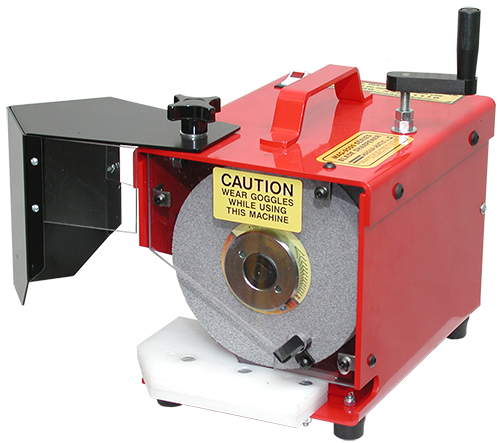 ---
Generation 5 (Production time frame 2004-2007)
There is some overlap in generations you will find some MAG-9000 with the welded handle and rocker switch but with the vacuum grit guard.
Vacuum port becomes standard on the grit guard 9000-50
On/Off switch goes back to a metal toggle switch with lock-out plate
Thrust bearings added to the adjustment 9000-37
The carry handle is a bolt on plastic handle 9000-58
Large white logo decal used
Up to 2007 all MAG-9000's have a LEESON 1/2 HP motor
2005 the 9000-53 arbor wrench became standard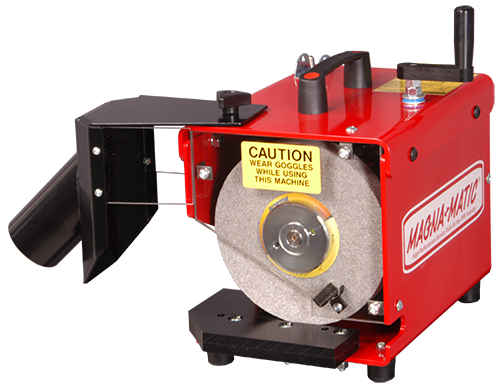 ---
Generation 6 (Production time frame 2007-2019)
Motor change information - please note that the current motor we offer as replacement will fit in all generations of the MAG-9000.
2007 the motor became a BALDOR 3/4 HP motor with a 35 uF capacitor
From 6/4/2013 to 3/7/2014 the motor was a LEESON 3/4 hp with a 30 uF capacitor
From 3/8/2013 to 6/25/19 the motor was a BALDOR 3/4 HP with a 35 uF capacitor
From 6/25/19 to current the motor is a LEESON 1/2 HP with a 30 uF capacitor
---
Generation 7 (Production time frame 2010 to Current)
More Coming Soon
2010 the grit guard is enlarged to have better spark containment 9000-50 this current version of the grit guard will fit on all previous MAG-9000 generations.
While motor types changed over this time frame, the exterior of the MAG-9000 looks like the unit below.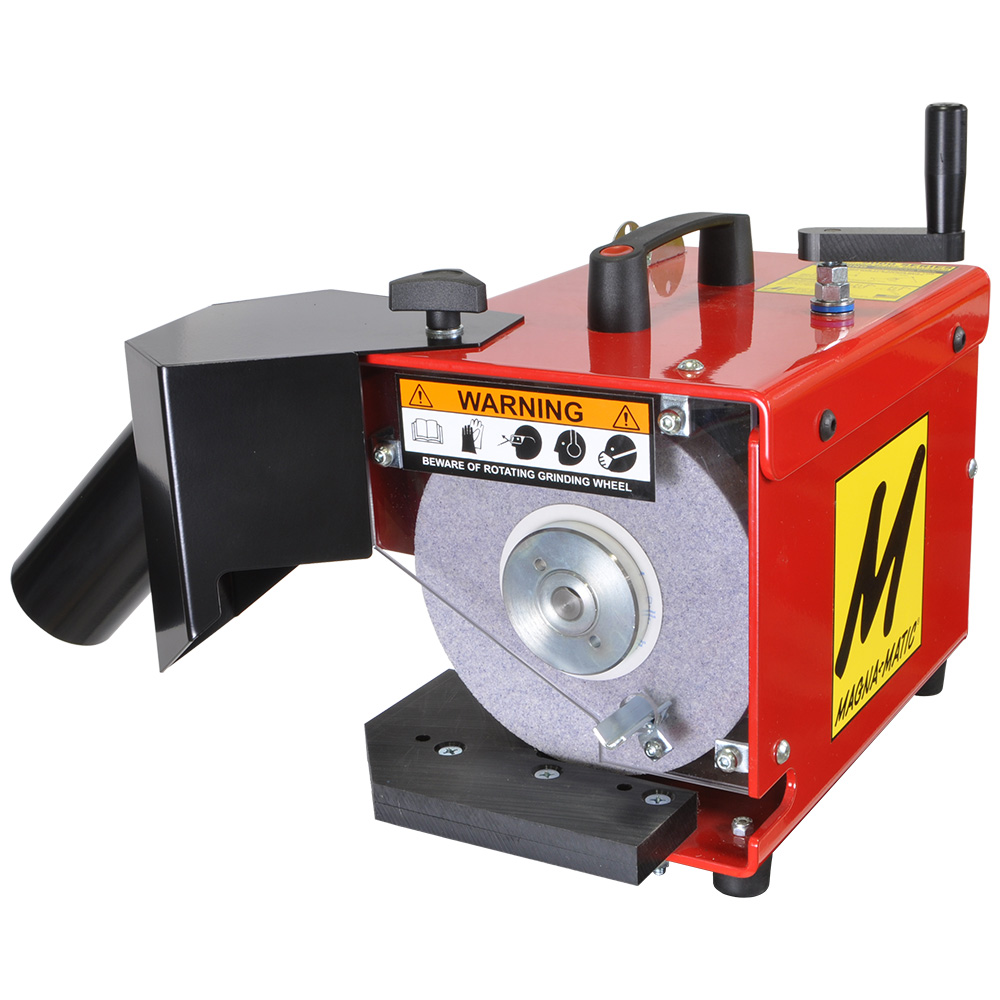 ---